The I AM AN OPTIMIST Foundation is a non-profit organization, which through various initiatives promotes optimism and people whose attitude and optimistic outlook on life allows them to overcome adversities.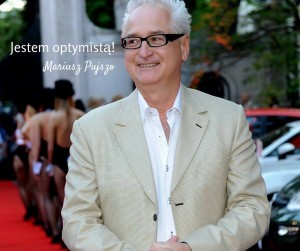 The founder of the Foundation is Mariusz Pujszo.
Our goal is to strengthen social capital by promoting optimistic attitudes, positive thinking and the joy of life, sympathy towards people and the environment, openness and civic activity for "change for the better" in a broad sense. We want to encourage people in Poland and all over the World to the positive thinking.
Poland is ranked as one of the most optimistic countries in the World. It is a good background to inculcate among Polish women and men an even better mood and cheerfulness. Let us be an example for neighboring countries. According to the research conducted by CBOS (Centre for Public Opinion Research), even though people are getting more satisfied with the economic situation, there is lack of optimists looking with a smile in the future.
It is time to promote positive thinking with a particular focus on the assessment of the prospects of life, achievements and relationships. Such actions will contribute significantly to the growth of levels of life satisfaction in the society. Let's start to appreciate the optimism!
The Foundation plans to organize symposiums and workshops regarding optimism in science, medicine, business. The intention of the Foundation is also to organize occasional proms, such as Carnival Ball of Optimists. The main goal is to create a mass event, which will increase its influence and importance every year – The World Festival of Optimism.
The Foundation realizes its statutory objectives, among others, through:

maintenance and dissemination of national tradition, cultivating Polish identity and the development of national, civil and cultural consciousness,

supporting of the economic development, including entrepreneurship development,

supporting of the development of local communities, science, education, training, enlightening and upbringing,

maintaining and promoting international relations and optimistic attitude to life,

promoting culture, art, protection of cultural and national heritage, in particular by organizing festivals, events and workshops,

supporting and promoting physical exercise, building positive emotions through sport,

activities in favor of European integration and the development of contacts and cooperation between societies.